Talk to a Parts Specialist Today!
AutoNation Chrysler Jeep Arapahoe Parts Department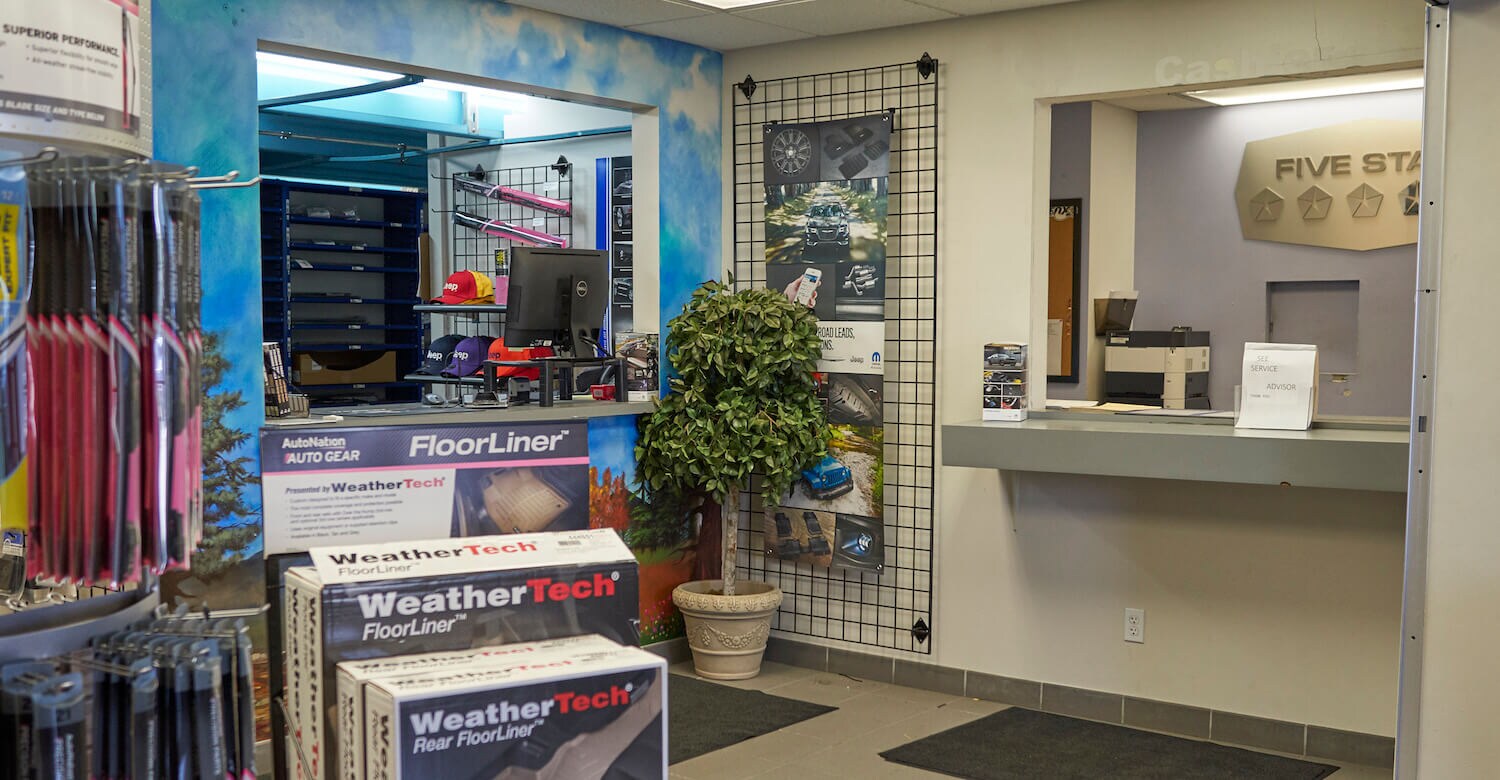 Genuine Chrysler Jeep OEM Parts in Englewood
If you are a proud owner of a Chrysler or a Jeep and love your vehicle, you'll want to bring it to the experts in auto parts and service. Autonation Chrysler Jeep Arapahoe will help you keep your car road-worthy and safe. Our expertly trained team of Chrysler and Jeep service technicians use only genuine Chrysler and Jeep parts when servicing your vehicle. Looking for a part in particular? Our parts department is well-stocked with genuine OEM Chrysler Jeep parts. If we don't have what you need in stock, we can order it for you in an efficient and timely manner.
Why our Trusted Chrysler Jeep Parts?
The reason residents of Englewood, Mobile, Prichard, Pensacola, Daphne, and Pascagoula turn to AutoNation Chrysler Jeep Arapahoe for their parts and service is mainly for the quality. It is always better to visit a company that deals exclusively with your manufacturer or OEM parts than it is to take your car to the local general all-purpose dealership. The truth is, these dealerships typically are not as knowledgeable about your car brand and are not as well-stocked with the OEM Chrysler Jeep parts as Autonation Chrysler Jeep Arapahoe.
We Know Your Chrysler and Jeep inside and Out
Our service technicians have attended Chrysler and Jeep training and are required to continue taking classes and certifications to remain at the head of their fields. We are happy to fit your car with any Chrysler and Jeep parts and accessories, including bulbs and batteries, filters, spark plugs, belts and hoses, wiper blades, ignition parts, brake discs and brake pads, fluids, mufflers, tires and more. A good rule of thumb to remember is, if it's part of your car, chances are we stock it and can replace it.
Can't find specific Chrysler parts in Englewood? Searching high and low for Jeep parts? We stock plenty of Chrysler and Jeep OEM parts and inventory, but you can always call us at 3038729784 to inquire of any parts and other Chrysler and Jeep accessories or special orders before scheduling service.
From A-Z Car Parts in Englewood
We perform all types of car service, from routine maintenance and diagnostics to custom auto repair requests. It's good to remember that with regular maintenance and using only quality Chrysler and Jeep parts, your car will not only drive better and last longer, it will also help maintain its resale value if you're planning on selling it eventually.
As one of the nation's leading automobile sales and service providers, with over 100,000 cars for sale and hundreds of dealerships from coast-to-coast, we thank you for your continued loyalty and patronage. We're happy to continue providing competitively-priced service and genuine Chrysler and Jeep parts to you and the local Englewood community.
Parts Center Hours
Monday - Friday

7:00 AM - 7:00 PM

Saturday

8:00 AM - 5:00 PM

Sunday

Closed
Make an Inquiry